Galiwin'ku, NT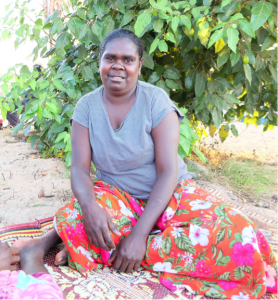 My name is Anita Goluŋ Munyarryun. I work at the community library in Galiwin'ku. I have three young boys who are still going to school at Shepherdson College. I would like them to learn to speak English very well and to finish Year 12.
When I was young I lived with my grandmothers at Rorruwuy, which is the homeland for all Datiwuy clan.
I spent some time as a volunteer Dingu (cycad tree) farmer helping old man Timothy Buthimaŋ. This man always gathered all the Wangurri tribe so we could learn from him when he was telling stories and teaching us the right way to live.
I got a job when I was 18, working with Aged Care delivering 'meals on wheels' and helping elderly people in the community. My next job was working at the childcare centre looking after the kids, then it was after this that I started working at the library.
These days I also work part time with Yalu' Marŋithinyaraw as a researcher.
My past projects have included:
'Helping and Caring, not only our family: NT Indigenous Perspectives on Volunteering' (CDU)
'Remote Engagement and Coordination – Indigenous Engagement Research' (CDU)
Families and Schools Together program (volunteer worker)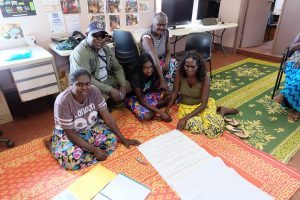 For the future I have to show my kids the right way to go, so they can have good role models to guide their way.
I would like to do more training in research work, to help me become more confident and put myself forward when working with both Yolŋu and Balanda. It is important that I show my skills to others, other young mothers and other young fathers, so they can have an example of the right way to go.