Pirlangimpi, NT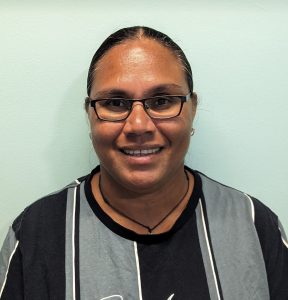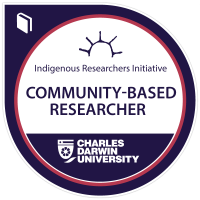 My name is Karina Coombes.  I am a proud Tiwi Women from Pirlangimpi community located on Melville Island, 80 kms north of Darwin, Northern Territory. My mum is from Pirlangimpi and my father is from Christchurch, New Zealand. I was born in Darwin and raised in the Pirlangimpi community. I belong to Takaringuwi (Mullet) skin group. My skin name is passed down through my mother's side of the family. My totem is the turtle.
My passion is education and training. I would like to see my people be self-sufficient and able to walk in both worlds, Tiwi and non-Tiwi. I have previously worked within the Office of the Prime Minister and Cabinet as a participant in the Indigenous Apprenticeship Program. I hold a Diploma in Government and was promoted to a permanent position in Canberra where I stayed for four years before I returned back to my own community, Pirlangimpi, to live and work.
Currently I am working in several different roles. I work part-time as a community-based researcher for Menzies School of Health Research. I am also currently co-chair of Tiwi Island Training and Employment Board (TITEB) and a Director of Northern Building Consultants. I feel committed to these roles.
Recently, I have been elected as the Munupi Trustee on the Tiwi Land Council, where I am only the fifth female representative in the council's history and the first ever trustee from my clan.
I have also been on other boards such as the Munupi Family Trust and the Pirlangimpi store. Previously, I sat on the Forest Industry Advisory Council for 3 years. I was appointed to this position by the then Minister.
I have volunteered with the Pirlangimpi emergency service team (local SES). A community search that was happening in my community inspired me to join the team as I wanted to help my people.
Download Karina's CV: HERE
My research:
Research is important because otherwise we may not always be accurate with what we think we know. By conducting research, we learn from others. As well as learning new skills, we also get to share our knowledge and experience with others.
I am currently employed in a community-based researcher role (Indigenous identified role) within Menzies School of Health Research. I work closely with the researchers from Menzies School of Health Research and the University of Sydney in the current project, 'Optimising digital solutions to improve access to comprehensive Primary Health Care services in remote Indigenous communities. (Ethics Approval: NT HREC 2022-4275)'.
Being born and raised as an Aboriginal person, I have deep understanding of my cultural heritage. I am adaptable and currently working very well with non-Indigenous researchers and colleagues. I speak fluent English and Tiwi language. I have great community-engagement skills, teamwork and am able to diffuse conflict situations. I also have project management and IT skills that I acquired through my previous work.
Working in culturally safe ways:
When I work in my community I would like to make sure I work in a manner that safeguards the local, vulnerable people of my community at all times. I make sure I am respectful in my conduct while working as a researcher and also ensure that my colleagues do the same. Working ethically also means that I do not cause any harm to anyone during my research, and respect them as equal partners in my work. I want to be able to be consistently fair and honest and hold my head high in my work and produce work that is of high moral and ethical standard.
Cultural safety is at the centre of my work in my current project. I have a number of researchers who are new to my community and may have had different experience in their past. I discuss with my colleagues about acceptable and right ways of conducting group discussions and collecting information in the community. I also ensure that my non-Indigenous colleagues do not harm themselves not knowing the right protocol, and not knowing the right way to approach people. I work around those challenges, helping my colleagues learn these aspects and work as a bridge between my community and my project.
My availability:
I am available for community engagement and research activities in Pirlangimpi, Milikapiti and Wurrimiyanga communities. I am located in Pirlangimpi and travel frequently to Milikapiti, and nearby communities located in the Tiwi Islands. I can also travel further if that is part of my job.
If you are interested in w0rking with me, please contact me by email: coombesy7@yahoo.com.au; karina.coombes@menzies.edu.au.