Galiwin'ku, NT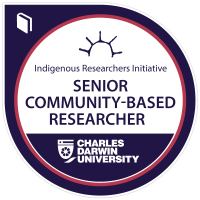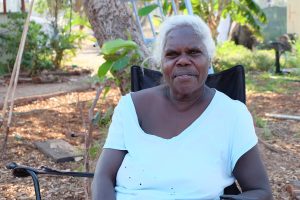 Hi my name is Jane Garrutju Ganḏangu
I was born at the Wessel Islands and came to Galiwin'ku when I was 6 years old. I started school here at Galiwin'ku in the late 1950's. I finished my year 7 at the local school, Shepherdson College. Then I studied CPM (continuous progress in maths) and left school after year 12.
When I left school I first worked with Elaine Lawurrpa Maypilama at the preschool.  I wanted to be a teacher when I left school, so my first experience was with Lawurrpa. In the late 80's I started moving to teach Transition, Primary, Upper Primary levels.
I worked at TCU in Darwin for a while. After that came I back to Galiwin'ku as a TCU manager for 2.5 years, then went to live in one of the homelands and became an outstation assistant teacher at Fourth Creek. I didn't do training, I just had my skill.
It was in 1992 that I started the research, helping Anne Lowell. She was a speech therapist doing her PhD. With help I did djama with researchers, Lawurrpa was there with me all the time and Anne Lowell, Maria, Julie. We worked together with Joanne, then I became a Yalu' Marŋgithinyaraw chairperson working with Lawurrpa coordinating that project, also with Joanne Garŋulkpuy and Dorothy Yuŋgirriŋa. We all worked together and then Rosemary Gundjarranbuy came along.
We worked and helped the community. We did all things. Researchers are here now in Galiwin'ku because we shared our knowledge together. We didn't know at that time that PhD was one of the title that balanda had to have, and we were just throwing and wasting our knowledge. Helping balanda friends and families.
I have worked on lots of projects:
Growing up Children in Two Worlds (with Anne Lowell, CDU)
Growing up Children in Two Worlds – Stage 2 (with Emily Armstrong, CDU)
Indigenous Health and Education: Exploring the connections (with Anne Lowell, CDU)
Hearing and Bush Medicine (with Anne Lowell)
Community Based Disaster Risk Reduction for Sustainable Development: A Comparative Study between Indigenous Communities of Pakistan and the Northern Territory Australia (with Tahir Ali, CDU)
Caring for Mum on Country (With CDU and Molly Wardaguga Research Centre)
We have been here all the time from 1992 to 2020. 28 years helping our balanda friends to get our PhD without knowing why they are digging our brain. So, we are here for our balanda friends, and to learn from each other, teaching one another to learn both worlds.
Now I am doing a part time djäma, connected beginnings with Nyomba. That is my last djäma.
My husband, Morning star man, was our advisor. Very close to the ladies doing research work, helping our work.
Publications:
Lowell A, Maypilama EL, Fasoli L, Gundjarranbuy R, Godwin-Thompson J, Guyula A, Yunupiŋu M, Armstrong E, Garrutju J, McEldowney R. Building Yolŋu Skills, Knowledge, and Priorities into Early Childhood Assessment and Support: Protocol for a Qualitative Study. JMIR Res Protoc. 2018 Mar 7;7(3):e50. doi: 10.2196/resprot.8722. PMID: 29514777; PMCID: PMC5873874.
Presentations:
Presentation with the Northern Land Council to the World Community Development Conference, Darwin, June 19-21 2023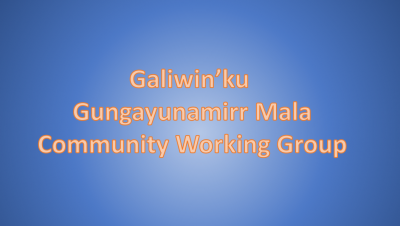 Images courtesy of the Northern Land Council. 
Media: