Wurrumiyanga, NT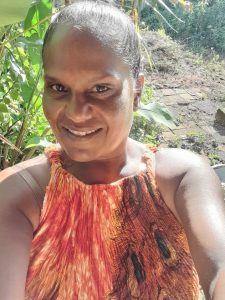 My name is Mavis Kerinaiua and I come from an island community called Wurrumiyanga just 80km from Darwin Northern Australia.
For over 20 years I have worn many hats.
After schooling at St Therese later St Margaret Mary QLD, I went on into college or TAFE and studied office admin, English and maths to finish my matriculation hoping to return home. I later worked for TLC as secretary to the Chairman. I later got into the Nguiu Council as office traineeship later Tiwi Islands Local Government.
I have been an advocate for the Early Childhood and family integrated services, and I have worked in Childcare as a part time Family and Health coordinator and with Children's behavioural program called Let's Start working with family and researchers. I have a diploma in Children Service and been part of the Community for Children supporting EC programs through the Red Cross.
I have been a casual Tiwi Interpreter and translator for over 20 years and gained Diploma of Interpreting and re accreditation with NAATI and now back in the Directory system for modern Tiwi.
I do most of translation work with ARC research occasionally other NGO such as Ninti One for NDIS and doing voice recording and translation and interviewing NDIS clients and mini films for family and children.
Since 2007, I have been strongly involved with the establishment of a rehab centre at 4 Mile Respite on Bathurst Island just out of Wurrumiyanga township. It is an alcohol and drug initiative from the community, used to be with the Dept of Business and now with the Health Dept. and yet it is still pending even though there is allocated funding set aside for the Tiwi Respite Centre.
I have sat in boards as Mantiyupwi Director since 2007-2018 and being part of the Mantiyupwi Consultative Forum in which the Office of Township Leasing coordinates quarterly meeting with 8 family land groups.
Also, I have been member of the Local Authority since 2014-2018.
I was with the Housing Reference Group for a short while but prior to that I worked for the NT Housing since 2010-2014 as Community Housing Officer and setting housing allocation with Tiwi HRG.
Because of the EC Networks I used to facilitate as an IEO I got more involved with Children Coordination group supporting and coordinating community events for anti-violence and children & family champaigns with stakeholders and community and engaging with service providers for the Remote School Attendance Strategy (yellow shirt), SATO (Black shirt) and CFF by supporting and engagement with stakeholders and community.
In the past I have been co-chairing with IECPRG since Yamay Yunipungu resigned as the Chair with the Indigenous Parent Reference Group, in which the Department of Education coordinate the meeting with group of indigenous members from NT and we occasionally meet once or twice a year to discuss EC programs and the methodology of Abecedarian Approach, the 3 A's, and health and social aspects of indigenous children and family with supporting programs such as Family as First Teachers and school and community engagement.
I had the privileged to gain 8 years of experience through the position I held as the Indigenous Engagement Officer with FaCSIA, ICC and PMC based at Wurrumiyanga. Working with the 3 tiers of government for Tiwi islands.
Because of my interest with Caring for Country I was awarded twice for Climate Change and Caring for Country by the PMC and NAAIDOC week nominee.
In 2018 I presented a talk in Melbourne of the Climate Adaptation 2018.
And in 2021, I went to attend the First Nation Gathering for the Climate Change in Cairns for one week conference.
Since 2020 I started casual employment with Tiwi Resources as a co researcher, a partnership with ARC in which I am still currently hold. I also sit with the Science Reference Committee as a Tiwi co researcher engaging, meeting, and working with scientist and researchers and other universities around the Tiwi biodiversity and sustainability and social science, Caring for Country and cultural values around the participatory mapping with land groups.
I have enrolled in Higher Ed since April 2021 and am currently studying a Diploma of Indigenous Research part time with CDU.
If I can make, or bring, a change where I can, then I have done something right that is beneficial to Tiwi community.