My name is Emmanuel Yunupingu. I come from Gapuwiyak.
My father comes from Gunyangara (Ski Beach), but I was raised up all my life in Gapuwiyak, my grandmothers land. I got this research job because I need to help my family, Gupapuynu clan, Liya-lanmirri. Working with them, it is really important to stay focused and on track, letting them know what the research is all about.
In 2005, while I was still at school, we travelled to different places around the world, showing our culture to the world. We went to Singapore, Kuala Lumpur and Paris. Showing we have strong mind to share our culture to other people so they can see who we are, and where we come from. How we have strong law and culture and can mix together both Yolŋu and western ways, carrying this message and our songlines to the world.
I left school when I was 18 years old in 2008. First I got a job working with ALPA for 2 years. Then I moved to a job in the Shire council. I started as a cleaner for 2 months, and then shifted to other roles including working at reception, and media work – broadcasting and podcasting. At the same time I was in the Army reserve with Norforce at Kangaroo flat.
In 2011 we went overseas again, to Osaka Japan. Sharing our culture, helping and teaching Japanese people to learn our dances – Brolga dance, sunset dance, crocodile dance and others. They were excited to learn from us. (You can see the video below)
After this in 2013 I got another job at the clinic as an Aboriginal Health Practitioner. At the same time I studied at Batchelor Institute achieving my Certificate I as an Aboriginal Health Practitioner.
I stopped working at the clinic because I was away for 7 months in Darwin. After that I moved back to Gapuwiyak and got a job helping the transition between Top End Health Service to Miwatj clinic. Here I worked as a facilitator in the Advisory Community Group working with Miwatj and Top End Health service through Goŋ-Däl Corporation.
I worked with Goŋ-Däl Corporation from May-Jul 2019, and now I am working as a casual researcher in Gapuwiyak with CDU and NLC and helping Milindji corporation, and my grandmother's clan.
Through this work I'm trying to achieve my goals so I can be a young leader for my community, for my family and for my children in the future.
Current Employment:
Australian Electoral Office (2022 – present)
Community based-researcher with CDU (2019 – 2022)
Yolŋu administration assistant with Matrix (2020 – present)
Construction worker (building, plumbing, carpentry and concreting) with WTD Constructions (2020-present)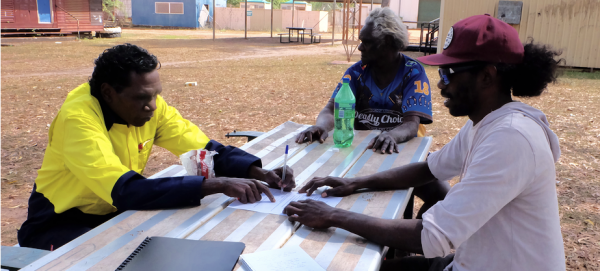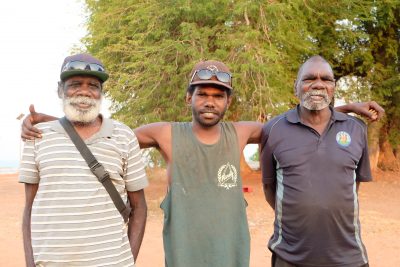 Media Stories: