Cross-cultural management of freshwater on resource-constrained islands
This International ARC Linkage project aims to develop methods for community-led adaptive water management on the resource constrained island of Milingimbi.
Traditional Owners at Nilatjirriwa, working on the groundwater project
Project Aims:
This is the first project of its kind to involve Indigenous communities in the development of predictive groundwater models and incorporate Indigenous governance capacity and its values in the management of water resources. Prof Michael Christie, and Hayashi Yasunori of Charles Darwin University are leading the community engagement and Indigenous knowledge aspects of the collaboration. This continues ongoing work at the Northern Institute and the School for Indigenous Knowledges and Public Policy developing methods for Indigenous communities and universities working together through quite different knowledge practices.
Research Approach:
This project is applying three-dimensional participatory mapping as a boundary object for the Indigenous community and the universities and corporations to appreciate the respective knowledge practices about water and water management.
Outcomes will include:
Data measuring and modelling hydrological flows
Collaborative development of research methods and water management practices
Negotiation of predictive groundwater models
Previous Milingimbi Water work:
.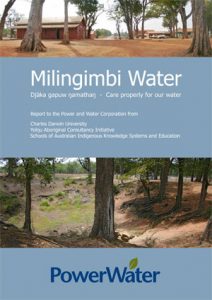 In 2009, the NT Power and Water Corporation approached the Yolŋu Aboriginal Consultancy Initiative at Charles Darwin University to propose a collaborative project to examine and improve engagement with Milingimbi community over issues of water management. The project was also envisioned as a best practice example of community consultation and engagement that could be used as a model in other communities to support the roll out of the Power and Water Community Water Planning Initiative. Access full report: HERE