Indigenous Research Collaborator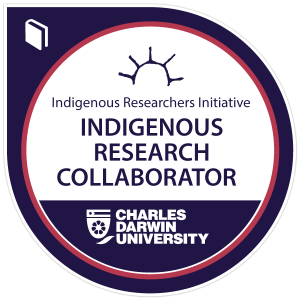 This credential acknowledges the participation and contribution made by an Indigenous research mentoree to a collaborative research project. Earners will have worked in their home community under the guidance of senior advisors and with CDU staff on one or more research projects. They will have received introductory training in research ethics, and been given the opportunity to learn about research by watching research work being carried out by experienced Indigenous community-based researchers with whom they are familiar and comfortable.
Eligibility:
This credential is available to Indigenous research mentorees working in teams with other Indigenous researchers and CDU staff on a research project in the Northern Territory. It is designed to acknowledge the recipient's participation in the cross-cultural facilitation of community-based research, and the role they play as a young person learning from experienced researchers and family members.
Criteria for Assessment:
Attendance at a research induction meeting and identification of supervising Elder Indigenous authority
Creation of a research profile detailing who you are, and your previous work (including research experience)
Successful participation in one or more collaborative research projects undertaken under Elder Authority with local researchers and CDU staff.
Authorisation:
Credential will be authorised by an appropriate senior Indigenous authority and the Dean of the College of Indigenous Futures, Arts and Society, CDU.
How to apply:
For further information please contact:
Michaela Spencer at the Northern Institute, CDU