Indigenous Community-Based Researcher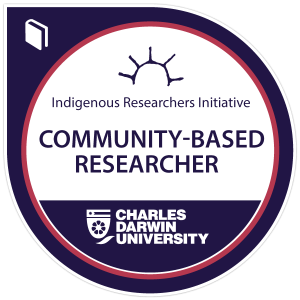 This credential provides opportunities for Indigenous people working in their home communities to learn about research work, and to be recognised for their skills in bilingual and inter-cultural facilitation of research. Training occurs on the job while working closely with senior Indigenous advisors and CDU research staff. Participants will be supported to mobilise their own knowledge practices within the design, planning and carrying out of an on-ground research project. They will also learn about research ethics, collecting data (e.g. interviewing people, collecting samples), video and audio recording (e.g. iPad and audio) and sharing research outcomes (e.g. presentations at meetings). They will be recognised for their skills working on the ground and with various organisations to facilitate place-based, and ground up, research work.
This credential is repeatable.
Eligibility:
This credential is available to Indigenous community-based researchers working under the guidance of Elders or senior advisors and with CDU staff on a research project in the Northern Territory. It is a beginner level credential designed to recognise skills in cross-cultural facilitation and research within the recipients home community or region.
Award criteria:
Attendance at a research induction meeting
Creation of a research profile detailing who you are, plus any previous work or research experience
Successful facilitation of one or more research interviews (or discussions)
Demonstrated understanding of research ethics and processes for informed consent
Demonstrated capacity to operate bilingually in research situations
Assessment:
Credential will be authorised by an appropriate senior Indigenous authority and the Dean of the College of Indigenous Futures, Arts and Society, CDU.
Pathways to further study:
Completion of 3 of these credentials is recognised as the equivalent of 1 unit in the Diploma of Indigenous Research, CDU. Any researchers proceeding to the Diploma will be offered credit for this unit on entry.
How to apply:
For further information please contact:
Michaela Spencer at the Northern Institute, CDU