Darwin, NT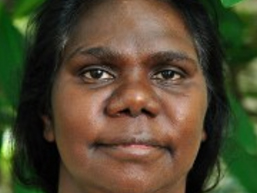 My name is Sylvia Nulpinditj. I work for the Aboriginal Resource Development Service (ARDS) as a radio presenter. I also currently work for Raki Mala as a researcher and consultant.

I have worked on two film projects supported by Screen Australia with NITV. Bulunu Milkarri (director) and Djurrpuṉ: The Evening Star (writer and director).
I am an emerging artist and young female Yolŋu leader. Below are two of my recent paintings.
The Djakŋ (freshwater file snake), and the Gudumurrku (freshwater catfish) belong to clan groups with a connection to Wetitj (olive python), Galpu and Birritjama. These paintings are part of the songlines and dances that have significance for these clans.
I currently live in Darwin with my husband and children.