Darwin, NT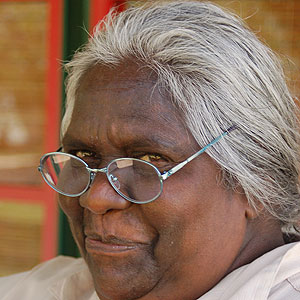 I come from Milingimbi. I live in Darwin now. My clan nation is Gupapuyŋu Daygurrkurr. I am a Dhuwalamirri speaking person. My father's name is Tom Djawa, and my mother's name is Eva Mariny from Djambarrpuyŋu clan nation.
I started work at Milingimbi as a bilingual teachers aide when bilingual education started in the 1970's. In 1985 when I finished my Batchelor College training as a qualified teacher I went went back to Milingimbi to teach at a secondary level. After that I moved to homeland teaching as a homeland visiting teacher, and was part of the Remote Area Teacher Education program. This including teaching homeland teachers how to work in their schools.
In 1989 I changed my profession from teaching, and began working for the NT Education Department in Darwin, designing curricula for homeland schools. In 2004, I began working with staff at CDU providing Yolŋu matha language information for course development. Including for the dictionary, text books and other materials for the new course in Yolŋu languages and culture.
As a senior member of my clan nation I brought to the workplace at CDU the knowledge that I had from my family of what to teach. At university I was teaching in my language. Gupapuyŋu, bringing people to know me through ways of teaching them about aboriginal understandings, and the knowledge and culture of Yolŋu people of North East Arnhem Land. Learning how we can balance the understanding of our cultural values and the knowledge of Yolŋu in Arnhem Land when people are working with us.
We worked under the guidance of Yolŋu advisors in the regions of NE Arnhem Land to make sure we could provide stories of how people live, the ways that we follow and how we can communicate with each other through our connections, our families and our ceremonies that we share with other clan nations. As well as how Yolŋu society is living and maintaining our cultural values and knowledge.
Past Employment 
Bilingual teachers aide
Secondary School Teacher
Teacher Trainer
Curriculum developer, NT Department of Education
Lecturer, CDU
Past Research
Awards
2014 Honorary Doctorate Charles Darwin University
2010 The Indigenous Higher Education Advisory Council National Elder of the Year Award
2007 CDU Vice Chancellor's Award for Exceptional Performance in Research
2005 Prime Minister's Award for University Teacher of the Year