Galiwin'ku & Darwin, NT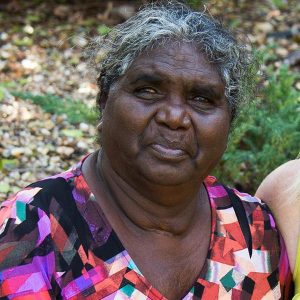 Ḻäwurrpa is an experienced Yolŋu researcher who was one of the founding members of the research organisation Yalu' Marŋgithinyaraw.
She currently lives in Darwin, but until recently has lived in Galiwin'ku. She is Waramirri clan and connects to Galiwin'ku through her father's father. She also speaks many dialects of Yolŋu Matha.
Ḻäwurrpa has worked extensively with Charles Darwin University and Menzies School of Health for over twenty years, and has skilfully guided many non-Indigenous researchers to work with Yolŋu in ways that are ethical, mutually beneficial, and enable non-Indigenous and Yolŋu to understand each other's knowledges.
Ḻäwurrpa is passionate about improving education pathways for Yolŋu and wants to see Yolŋu people achieving at the highest levels of education.
Qualifications:
Associate Diploma in Teaching: Bachelor Institute of Indigenous Training and Education (BI)
Honorary Doctorate, Charles Darwin University (CDU)
Recent Research Projects:
2015 – Higher Education Participation and Partnerships Program: Whole of Community Engagement Initiative (HEPPP-WCE). Office of the Pro-Vice Chancellor Indigenous Leadership, CDU.
2015 – Evaluation of East Arnhem Land Low Income Energy Efficiency Initiative. Power and Water and CDU.
2012 – Food Across Cultures: Integrating traditional Indigenous knowledge and ways of knowing to build strong nutrition, health and spirit. Susan Colles (Principal Investigator), Julie Brimblecombe, Elaine Lawurrpa Maypilama. Menzies School of Health Research.
2012-13 – Evaluation of the 'Sharing the full and true stories about chronic disease project" Anne Lowell, Elaine Ḻäwurrpa Maypilama, Joanne Garŋgulkpuy, Rosemary Gundjarranbuy. Yalu' Marŋgithinyaraw in partnership with the Research Centre for Health and Wellbeing, School of Health, CDU.
2012-14 – Growing up children in two worlds – recognizing and building on strengths in two Aboriginal communities. Anne Lowell, Elaine Ḻäwurrpa Maypilama, Jane Garrutju, Mary Finlayson. CDU Research project.
2010-12 – Endangered Sign Languages in Village Communities: Yolŋu sign language. Dany Adone & Elaine Ḻäwurrpa Maypilama. Funded by European Science Foundation 'EuroBABEL'. University of Cologne.
2009-13 The Good Food Systems: Good For All project (Building Capacity) Julie Brimblecombe & Elaine Ḻäwurrpa Maypilama. Menzies School of Health Research.
Research Reports:
Wild K., Rumbold A., Maypilama L., Boyle J., Kildea S., & Barclay L. (2010). Checking for Problems with the Baby in Early Pregnancy: It's Your Choice to Test for Down Syndrome and Neural Tube Defects.Darwin: Menzies School of Health Research [Flipchart and brochure]
Lowell, A., Maypilama, E., Yikaniwuy, S., Rrappa, E., Williams, R., & Dunn, S. (2010). Taking control of chronic disease: strengthening communication and education strategies supporting self-management for Indigenous consumers. Project Report for DoHA.
Maypilama, E., Garŋgulkpuy, J., Murakami-Gold, L., and Dunbar, T. (2007) First Language Indigenous Research and Consultation Model Evaluation: Possible Model for future meaningful engagement. Darwin: CDU Press
Maypilama, E., Garnggulkpuy G., Christie M., Greatorex, J., & Grace, J. (2004), Yolngu long-grassers on Larrakia land: First language research project, report for the Community Harmony Project Darwin and Palmerston
Lowell A., Lawurrpa E., & Biritjalawuy D. (2003) Health and Education: Exploring the Connections. The Galiwin'ku Story. CRCATH: Darwin.
Selected Publications:
Colles S.L., Maypilama E., Brimblecombe J. (2014) Food, food choice and nutrition promotion in a remote Australian Aboriginal community. Aust J Prim Health. 20(4):365-72
McWhirter R.E., Thomson R.J., Marthick J.R., Rumbold A.R., Brown M.A., Taylor-Thomson D., Maypilama E.L., Condon J.R., & Dickinson J.L.(2014) Runs of homozygosity and a cluster of vulvar cancer in young Australian Aboriginal women. Gynecol Oncol.;133(3):421-6
Brimblecombe J., Maypilama E., Colles S., Scarlett M., Dhurrkay J.G., Ritchie J., & O'Dea K. (2014) Factors influencing food choice in an Australian Aboriginal community. Qual Health Res. 24(3):387-400
Wild, K., Maypilam, E.L., Kildea, S., Boyle, J., Barclay, L., & Rumbold, A. (2013) 'Give us the full story': overcoming the challenges to achieving informed choice about fetal anomaly screening in Australian Aboriginal communities. Social Science & Medicine; 98: 351-360.
Lowell, A., Maypilama, L., Yikaniwuy, S., Rrapa, E., Williams, R. & Dunn, S. (2012). "Hiding the story": Indigenous consumer concerns about communication related to chronic disease in one remote region of the NT', International Journal of Speech Language Pathology. Vol. 14, No. 3, Pages 200-208
Adone, D., Bauer, A., Cumberbatch, K., & Maypilama, E. (2012) "Colour Signs in Two Indigenous Sign Languages." In Sign Language Typology Series: Volume 4 – Village Sign Languages, edited by U.Zeshan & C. de Vos. Preston; Berlin: Ishara Press; Mouton de Gruyter.
Maypilama, E., & Adone, D. (2012), "Sociolinguistic Sketch of Yolngu Sign Language". In Sign Language Typology Series: Vol(4) – Village Sign Languages, edited by Ulrike Zeshan & Connie de Vos. Preston; Berlin: Mouton de Gruyter.
Brimblecombe J., Mackerras D., Garŋgulkpuy Dhurrkay J., Maypilama E., Bundhala L., Dhurrkay R. et al. (2006) Leanness and type 2 diabetes in a population of Indigenous Australians. Diabetes Res Clin Pract.