Ngukurr, NT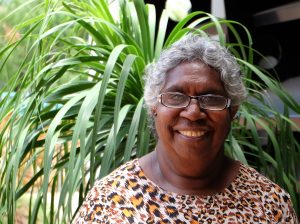 Mercy Gumbula is an Alawa woman from Ngukurr. Her skin is gali gali and her totem is quiet snake. Her country is Nanguya.
She taught at Shepherdson College for ten years before taking various positions with the Arnhem Land Progress Association and the Missionary Aviation Fellowship
She has has previous experience working on a number of project with CDU including:
Remote Engagement Coordination – Indigenous Evaluation Research, Phase 2 – Electoral Engagement and Education (2018-19)
Mercy Gumbula currently works with Ian Gumbula for Gumbula Consultancies. She is available for hire to represent as a consultant, negotiator, interpreter, facilitator, mediator, or cross cultural advisor assuring an ethical approach for her clients.
Contact Details for Gumbula Consultancies:
M: 0497 838 030