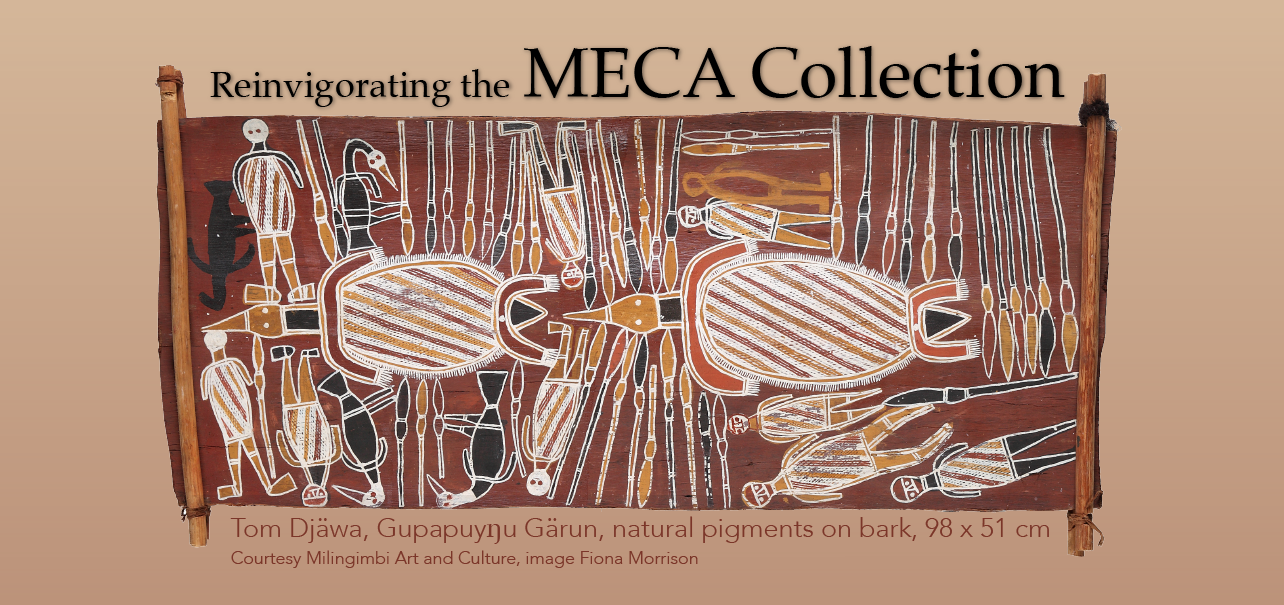 Reinvigorating the MECA Collection
This exhibition brings together 63 works from the Milingimbi Educational and Cultural Association (MECA) Collection, created in Arnhem Land in the 1970s.  Reinvigorating the MECA Collection presents Yolŋu bark paintings, sculptural objects, hollow logs, and weavings from this important heritage collection. This exhibition is presented by CDU Art Gallery and CDU Yolŋu Studies, in collaboration with Milingimbi Art and Culture and Bula'bula Arts. Following more than three decades in storage held in trust for the community at the Museum and Art Gallery of the Northern Territory, this is the first public display of the MECA Collection outside Arnhem Land. Close consultation between CDU Art Gallery and CDU Yolŋu Studies with the people of Milingimbi and Ramingining over the past three years has reinvigorated the MECA Collection works in this ongoing conservation and documentation project.
This exhibition was initiated in 2016, the same year that the Milingimbi Makarrata: Bringing the Past into the Future was held. Museum representatives from around the world attended the Makarrata in Milingimbi. Makarrata traditionally is a ceremony performed to resolve disputes. The 2016 Makarrata engaged the Yolŋu community and museum representatives in discussion about improved mutual understanding of cultural collections from Milingimbi.1 Reinvigorating the MECA Collection exhibition is a first stage engagement between this cultural asset and it's owners, the people of Milingimbi and Ramingining. Charles Darwin University anticipates that this process and exhibition will inspire conversations and connections that position the MECA Collection to become a springboard for future initiatives identified by the communities.
CDU ART GALLERY AND CDU YOLŊU STUDIES THANK OUR PROJECT PARTNERS:
Milingimbi Art and Culture Aboriginal Corporation
Bula'bula Arts Aboriginal Corporation
Museum and Art Gallery of the Northern Territory
CDU ART GALLERY AND CDU YOLŊU STUDIES THANK:
David McClay
David Morgan
Djon Mundine
Margie West
PROJECT TEAM:
Kellie Joswig, Curator
Yasunori Hayashi, Co-ordinator CDU Yolŋu Studies
Eileen Lim, Exhibition Officer
Dr Joanna Barrkman, Project Advisor
Professor Michael Christie, Project Advisor
Carolyn McLennan, Conservator
Gary Single, Display Technician
Ben Ward, Multimedia advisor
Kaye Hall, Marketing
Waymamba Gaykamaŋu, Yolŋu Consultant
Brenda Muthamuluwuy, Yolŋu Consultant
Fiona Morrison, Photographer
Pat Josse, Multimedia Technician
1 The Milingimbi Makarrata event was part of a wider ARC Linkage Project The Legacy of 50 years Collecting at the Milingimbi Mission, conducted by Australian National University and Museums Victoria (Dr Louise Hamby, ANU and Lindy Allen, Museums Victoria, as principal researchers, with Dr Christiane Keller, ANU/National Museum of Australia). Charles Darwin University has since become a signatory to the Milingimbi Makarrata Resolution, which resolves to 'join together in trust to find respectful ways to ensure the cultural heritage of Milingimbi is managed appropriately into the future.'
MECA COLLECTION ADVISORS
George Milaypuma
Joe Dhamanydji
Keith Lapulung
Roy Burnyila
Judy Lirririnyin
Ronnie Bulambula
Colin Yerrilil
Neville Gulaygulay
Albert Djiwada
Trevor Djarrugaykay
Bruce Wulawula
Philip Gudthaykudthay
Otto Campion
Solomon O'Ryan
Ronnie Garrawurra
Peter Dalparri
Robyn Malibirr
Dorothy Djukulul
Peggy Rankin
Roslyn MirrMirr
Joannae Milindjit
Margaret Milingarr
Lynette Birriran
Peter Djigirr
Anita Ganbunganbu
Albert Junior Waninymarr
Nita Lilipiyana
Bobby Bunungurr
Peter Gekirri
Jenny Malabirr
Jennifer Djenana