Pirlangimpi, NT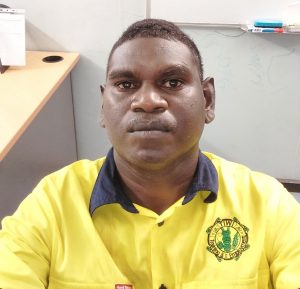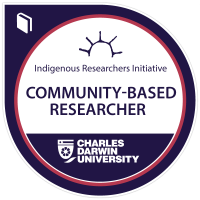 My name is Alexander (Alex) Puruntatameri. Me and my family are from the Tiwi Islands. My mother and father both are from the Tiwi Islands. I was born in Darwin and raised in the Pirlangimpi community on Melville Island which is about a 30 minute flight from Darwin. I am a member of one of the four clans in the Pirlangimpi community.
I am currently working with Menzies School of Health Research as a community-based researcher in Pirlangimpi, Melville Island, on a digital health project.  In this role, I lead community engagement and participant recruitment and assist with data collection. Research is a new experience for me and I am enjoying learning more about research from other people. It is interesting for me to link phones, videos and social media with health and wellbeing.
I also work for Tiwi Island Training and Employment Board (TITEB). In TITEB, I work on the mowers crew to keep our community tidy and safe. I also mentor younger men who join TITEB. I have been in this role since 2021.
I would like to work and lead my community. I want to be a good example for my younger brothers and sisters in the community and become a leader in the community. I used to play football for junior and senior teams between 2006 and 2013 so local young people know me from my game. I love fishing and hunting in my free time.
Download Alex's CV: HERE
My research:
Research is important to me. I would like to learn and transfer my knowledge to the community. Likewise, I also like to pass my local knowledge to others who are trying to work for and with the community. I think we learn when we are in research. I am currently employed as a community-based researcher role (Indigenous identified role) within Menzies School of Health Research. I work closely with the researchers from Menzies School of Health Research and the University of Sydney in the current project, 'Optimising digital solutions to improve access to comprehensive Primary Health Care services in remote Indigenous communities. (Ethics Approval: NT HREC 2022-4275)'. In my role, I lead community engagement. I organize meetings of local men, also share information about the project and ask if my men of the community are ok to join the meetings and interview. I organized men's barbeque multiple times and also organized focus group discussion and interviews in the current project.
My special skills:
My cultural heritage and local knowledge are my special skills. I have sound knowledge of forest and local ecology management as I have done many trainings. I am also a group leader when our supervisor is not around or has deputed the role for the TITEB mowers crew. Working ethically in  my community means I work for the good of my people. I provide information to them, ask if they want to provide feedback and take part in the research that we are doing.  I ask for their time and information only if they agree. I also read a consent form to them; and let them some time to read and answer if they wish to be part of the research. I work as the connecting person and guide for the researchers of my team and for my people. I provide information, advise the research team about the community protocol. We also discuss if the questions asked are appropriate for my community. On the otherhand, for my people, I ensure that they are not pressured to take part in any interview. I provide information, organize meeting that suits the local people and establish and maintain trust.
My availability:
I am available for community engagement and research activities. I am located in Pirlangimpi and travel frequently to Milikapiti, and nearby communities located in Tiwi Island. I can also travel if that is part of my job.
If you are interested in working with me, please contact me by email: puruntatimerialex9@gmail.com.