Darwin, NT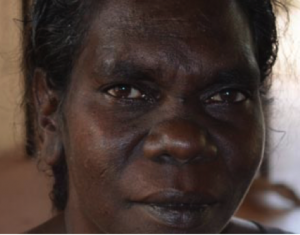 My name is Miriam Yirrininba Dhurrkay, known as Yinin. I am a traditional Wangurri woman from Dhalinybuy homeland, born and raised up at Galiwin'ku community.
I currently work at Charles Darwin University, the Aboriginal Resource Development Service (ARDS) and am an independent Aboriginal researcher and consultant.
I help to open the closed doors between ways that Yolŋu and Balanda do business and leadership.
I became a researcher when looking around at ceremonies, and noticing that Yolŋu only know about Yolŋu business, and Balanda only know about Balanda business. But my work is to open a door between these ways of working, and to find ways of working altogether, djäma rrambaŋi
My work has included research work on Disaster and Emergency Management in Aboriginal Communities in Darwin, language translation support, Indigenous knowledges and technologies workshops, cultural induction courses (NTG and PEW foundation).
Research philosophy
When balanda researchers work with Yolŋu, the first step is that they should do an induction to give them time to think about how they made their way to do this research, and what about it is interesting.
If you want to be successful in this work, and achieve your goal, then Yolŋu consultants and researchers are the people you can approach, and we can work together rrambaŋi djäma, räl-manapanmirr. The Yoŋu will be standing and leading the way. They know the path to take.
If NT researchers and government are doing something to do with Yolŋu affairs and policy,  these organisations can come to Yolŋu researchers first. This is the right way to go.
Today young people don't know were they are. They speak a mix of English and Yolŋu languages and struggle to work from their Yolŋu foundations. I have put myself in the spotlight to teach young Yolŋu, and to journey along the road together. To bring up young Yolŋu so they can stand tall and show they still have Yolŋu culture in there hands.
We are like birds building a nest, with the mother and father building one nest for the young ones. They look for food and bring it back to the nest until eventually the birds are grown and they build another nest and so it keeps on going. We need to practice going along like this, in this way.