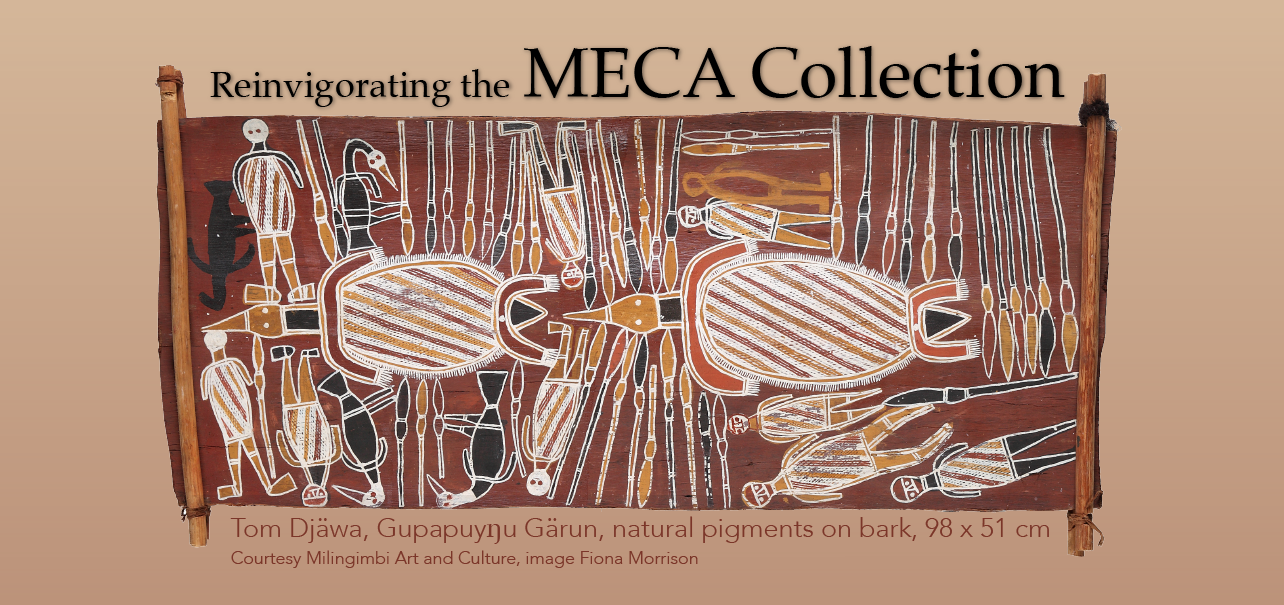 MILINGIMBI AND THE MECA COLLECTION
Part of the Crocodile Islands group just off the coast in north central Arnhem Land, the township of Milingimbi was formally established in 1923 by the Methodist Overseas Mission. Always an important site for Yolŋu people from nearby areas on the mainland to conduct ceremonies and collect seasonal foods, Milingimbi was also a place of trade and friendly relations with the Macassan fishermen from Sulawesi who had visited the island for centuries harvesting trepang.
However, the Mission did not restrict Yolŋu from continuing with ceremonial duties and it offered stability and new trade opportunities, and gradually many people from different clan groups began to settle there.
Milingimbi was evacuated during WWII and used as a base for the Royal Australian Air Force. The missionaries returned in 1951, with the Church continuing to administer the island until 1974 when responsibility was then transferred to Milingimbi Community Incorporated.
It was during this period of administrative overlap that the MECA Collection was established. Collecting occurred over a period of six or seven years, between 1972/73-1979. The Principal of the Milingimbi School, David McClay and Art and Craft Advisor and later Literature Production Supervisor David Morgan received numerous arts grants for the purpose of compiling a unique collection of paintings and other items by clan leaders and ceremonial custodians. The MECA Collection was a valuable cultural asset for the community and incorporated as a teaching resource for the school's new bilingual program.
In 1981, the MECA Collection was used to assist in a Native Title Claim over sea country in the Milingimbi area. It was successful, and Milingimbi is one of only a small number of places in the Northern Territory where a 'sea closure' applies under the Aboriginal Land Rights (NT) Act.
The MECA Collection includes over 200 items by many clan groups in the north central Arnhem Land region, including neighbouring islands, Ramingining (est. 1977), the Glyde River and the Arnhem Swamp on the mainland. It represents a skilled and talented group of artists telling a myriad of stories about the journeys of the Yolŋu creator ancestors, as visual narratives of country and law, and strong expressions of clan identity.